Play Dominoes on ESPN and Online at GameColony.com
Under the 1968 UK Gaming Act, games classified as forms of skill (non-gambling) included dominoes, cribbage, chess, and bridge.
ESPN sports network has declared the game of dominos as the next big spectator sport and is strongly promoting dominoes as both a cultural touchstone and a highly competitive game, complete with rankings, formal tournaments, celebrity events and sponsors.

Encouraged by the success of televised poker, ESPN network has begun combing New York City for top players and colorful domino clubs for its television coverage of dominoes. ESPN has been taping segments on formal domino tournaments as well as casual neighborhood domino games. Hour-long domino shows now run on Tuesday nights on ESPN's Spanish-language sports channel ESPN Deportes. Starting in June 2006, the network is planning to show similar English language dominoes broadcasts, with the hope that the game will be also popular with English-speaking viewers.

It is entirely possible that domino can become more popular than poker at least as far as TV appeal goes. Poker players tend to hide their emotions -- just take a look at those dark sunglasses and hoodies around poker tables -- some funerals could be livelier than some of the poker games that we see on TV.

When you see people play dominoes, on the other hand, it is a highly emotional game. If any Latino neighborhood in New York, dominoes is played there with slamming of tiles, verbal sparring, bragging and bluffing... An actor from Puerto Rico Luis Guzman has described the domino table as "an arena where the very dramas of life play out: love, hatred, revenge". In an interview to San Francisco Chronicle, Guzman said ""I know best friends who stopped talking to each other for years because of one game. After 10 years, one would still be saying, 'Man, why'd he play that one when he knew the other guy was holding the 6-3?', I know a guy who jumped out a second-story window and broke both legs after losing a domino game."

Other than from Phil Hellmuth, you would hardly see any passion from poker players. And Phil Hellmuth will probably be more likely to throw someone out of the window than to jump out by himself...

On April 28th, 2007, a professional dominoes player Travis Newsome, also known as the "Zen master" and the "Wizard of OZ" walked away with the Professional Domino Association's Championship. Travis Newsome who frequently plays dominoes at GameColony, beat Charles Smith in the finals. Travis Newsome is the leader of "The Dominators" domino team that includes Jerome Wooten, Nate Tsegay and Mark Jackson -- also frequent GameColony players. "We will continue to DOMINATE the league and "SLAM" anyone in our way," said Travis Newsome after his victory in PDA dominoes finals.

Online dominos at GameColony.com is very popular among professional domino players. GameColony offers popular dominoes games such as Draw, Block and Five-Up -- they can all be played online. At GameColony.com you can easily find a dominoes opponent online day or night, at all different skill levels, in a variety of types of competition. Free games are available as well as various tournaments for cash prizes.

Jay King, Commissioner of PDA and dominoes champ said: "It is entirely possible that dominoes can become as popular as poker at least as far as TV appeal goes. Poker players tend to hide their emotions so as their opponents will not be able to read them, while domino players tend to be animated, colorful, talkative and downright funny which makes for great TV."

Dominoes is a game where skill factor (as opposed to luck) is predominant. Especially in the longer run, skilled dominoes players will win far more often. The skill factor further increases with the games for higher number of points. When you play dominos, you do not really "gamble". According to the statutes of most US states, gambling is defined as: "risking something of value upon the outcome of a contest of chance". Playing dominoes for money is, thus, a "competitive entertainment" rather than "gambling". Skill plays a predominant role in the majority of hands in dominoes and, especially over the long run, the more skilled player is destined to win more cash prizes!

Below -- PDA's Jay King and a professional dominoes player George Bush promoting GameColony.com at Chicago PDA Tour -- June, 2006.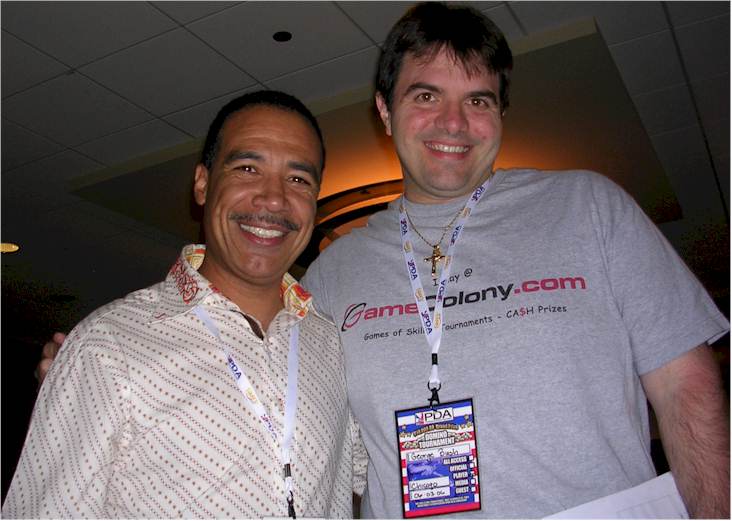 George Bush was PDA's Player of the Month for July, 2006. Below is the PDA write-up introducing George Bush:

"George Bush entered the Professional Domino Association with questions about his name "George W. Bush". The attention soon turned from George's name to his game which initially was not going well.

The unique thing about this George Bush, however, is that when his back was against the wall ...he reached out to help other people and together with Richard Harris (#11 in the world) has quietly donated his time to going to children's hospitals in every city that the PDA Tour travels.

George says, "Going to visit these children & playing dominoes with them allows me to spend time playing with the real champions, THE CHILDREN! I have children of my own and that's the support that I would want if my kids were in their position."

Needless to say, Mr. Bush has been a very proactive member of The PDA and a model human being. Oh, by the way… HE FINALLY GOT INTO THE MONEY ROUNDS! This weekend in Atlanta, George placed 4th and took home $2500.00. He is ranked # 15 in the world and plans to be all over the money in the 2006 PDA Tournament of Champions in Las Vegas on August 25th & 26th.